A Time for Change Health & Wellness Fair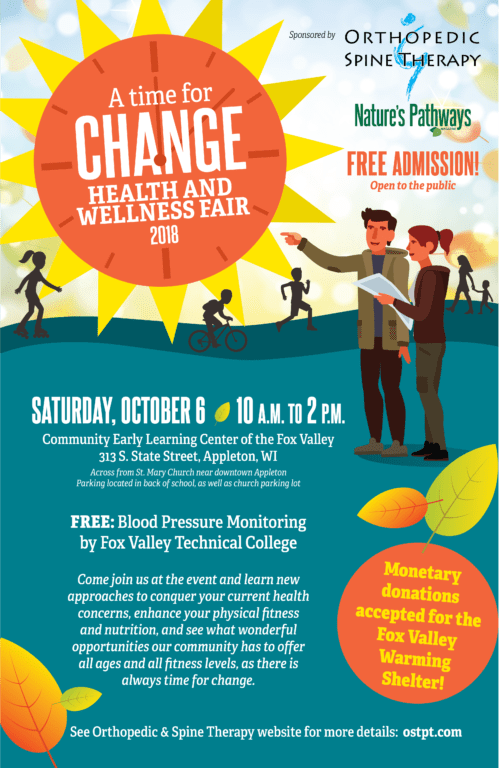 When:
Where:
Community Early Learning Center of the Fox Valley
FREE Blood Pressure Monitoring by Fox Valley Technical College
Vendors
920 Wellness Studio, 11
Dr. Mikhaila Weister, Angie Tanner, Allison Eastman
Holistic health services, including ERST, massage therapy, health coaching, personal training, genetic testing, nutritional consultation, and soon, chiropractic care.
Alterna Terra, LLC, 10
Jan Rohloff
Practicing reiki, an energy-based healing therapy.
Avada Hearing Care Center, 21
Matt Pignatore
Register for free hearing screening! We also offer a wide variety of affordable hearing aids, if needed, to regain your hearing and lifestyle.
Beautycounter, 5
Shelly Hunt
Empowering information making healthier, safer self-care products that you can trust.
www.beautycounter.com/shellyhunt
Cryotherapy of Wisconsin, 9
Michelle Witthuhn
Are you ready to start feeling better, having more energy, and feeling less pain? A healthier life can by just three minutes away with a cryotherapy treatment.
www.cryotherapyofwisconsin.com
Cultivate Taste, 31
Jennifer Nowicki
Your premier source for fine tea events, classes, catering, and gifts.
DoTerra Essential Oils, 13
Tiffanie Michonski
We harness nature's most powerful elements and share these gifts through our global community of wellness advocates.
www.mydoterra.com/aromatherapybytiffanie
Float Light, 25
Jonathan Roug
Floating light is a revolutionary new form of mental, physical, and spiritual therapy, a place where you disconnect with the chaotic external world and reconnect with your innermost consciousness.
Fox Valley Technical College Nursing Students, 22
Patti Mijal/Nursing Instructor
Nursing students providing free blood pressure monitoring.
Hands-On Healing Massage, 2
Kortney Nyman
Dedicated to giving you a customized massage experience at every visit.
Harmonious Health and Wellness, 26
Alaina Gates, ND, LMT
Offering a variety of services including massage, trigger point therapy, and nutrition and lifestyle consults.
Harmony Wellness Center, 34
Karen Pujals
Providing sacred space, programs, and services that empower and support health in body, mind, and spirit
Lisa Klarner Coaching and Consulting, 32
Lisa Klarner
Discover your path to positive change with a life coach, anxiety educator, and change manage who makes YOU a priority so you can find and live your best life, move through barriers, and live more purposefully.
www.lkcoachingandconsulting.com
Natural Healthy Concepts, 3
Mary Bloomer
Clean, natural health products. Therapeutic-grade supplements, vitamins, homeopathic medicines, aromatherapy, natural and organic skin and beauty care. Your health is the best investment you'll ever make.
www.naturalhealthyconcepts.com
Nature's Pathways, 23
Ken Grams
A community-based monthly magazine that connects readers to local business, providing relevant information on sustainability, green living, personal wellness, and more.
Norwex, 4
Hilary Bromeisl
Turn your home into a safe haven with Norwex by radically reducing the chemicals you use.
Nurse Practitioner Health Services, 12
Rachel Cabral-Guevara
Providing affordable and convenient direct healthcare to folks with high deductibles or no insurance. We don't accept insurance, which allows us to keep costs down 50-70% on all medical services.
Profile by Sanford, 18
Steve Roth, Seth Halkola
We believe the key to long-term health and weight loss is a sustainable change in lifestyle. Your Certified Profile Coach will work with you to develop a customized nutrition and fitness plan that is right for you.
www.profileplan.com/green-bay/
Pulse Four, LLC, 14
Kim Walsh
Mobile pulse electromagnetic therapy, pulsing for people, ponies, and pets.
Ruby Ribbon, 19
Becka Daun
Committed to delighting customers and enhancing their lives through unique and transformative products.
Senior Helpers of the Fox Cities, 20
Bobbie Thompson
Together we can discuss your loved ones needs and our services to determine what is best for your entire family.
Shifting Tides Chiropractic, 17
Felicia Houk, DC
Striving to educate and empower as many families as possible to make informed decisions about their health.
www.shiftingtideschiropractic.com
Soteria Wellness, 27 & 28
Dawn Olsen
Enhancing optimal wellness by minimizing pain, decreasing stress, and enjoying life through massage, Craniosacral Therapy, essential oils, full-spectrum infrared sauna, and bio-electromagnetic therapy.
www.soteriawellness.massagetherapy.com
Sweet Willow Naturals, 29
T. Heather Herdman
Your store for locally and regionally sourced sustainable products for home and body, as well as classes to support your health and well-being.
The Vitamin Shoppe, 15
Sarah Sharpless
Striving to make a healthy difference in people's lives every day and travel with each customer on their wellness journey.
Twohig Dental, 35 & 36
Dr. William J. Twohig, DDS
Experience a natural and holistic approach to dentistry at our mercury-free and fluoride-free, health-centered office.
Valley Fitness & Racquet, 24
Nick Hawley
Our world class facilities, team and members stand alone. Join us to experience amenities such as fitness classes, tennis programs, childcare, warrior boot camp, personal training, and smoothie bar.
www.valleyfitnessandracquet.com
Voxxlife, 37
Tanya Day
Wearable neurotech for drug-free wellness, optimal health, and improved human performance.
Wisconsin Historical Fencing Association, 16
Aaron Pynenberg
We are dedicated to interpreting, preserving, and practicing the armed and unarmed martial arts of Renaissance and Medieval Europe.
Xperience Fitness, 7 & 8
Donny Johnson
Providing gym members with more ways to reach their fitness goals, more advice for a healthy lifestyle, and more opportunities to feel unstoppable.
YMCA of the Fox Cities, 33
Kristin Johnson
A full range of healthy living options for recreation, healthcare, nutrition, and personal programs with services for all ages.
Yoga Elements, 1
Kathy Davis
Take a variety of yoga classes for all levels of experience and ability.