A Time for Change Health & Wellness Fair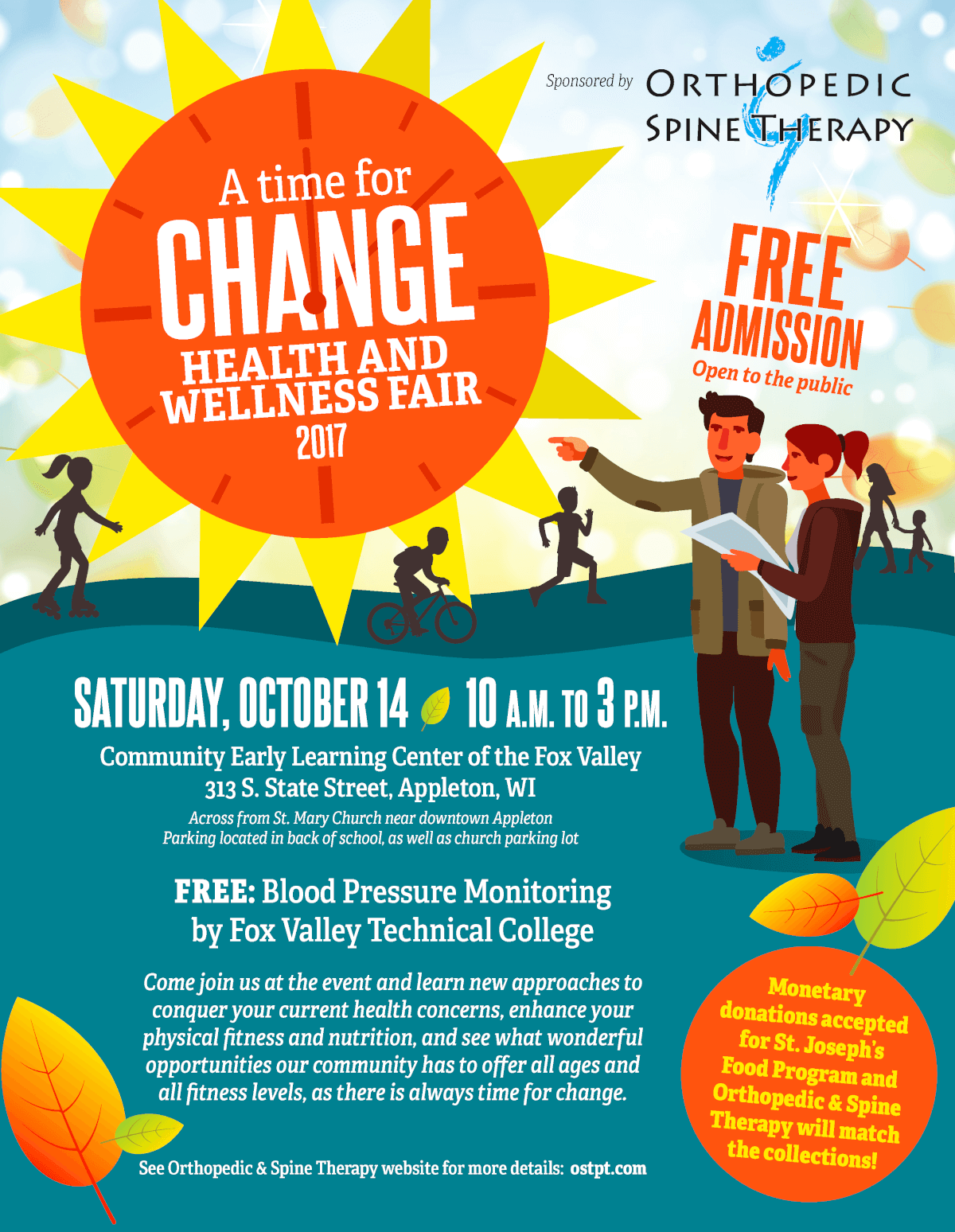 When:
Where:
Community Early Learning Center of the Fox Valley
FREE Blood Pressure Monitoring by Fox Valley Technical College
Vendors
Nursing students providing free blood pressure monitoring.
Experience a variety of yoga classes for all levels of experience and ability.
Dedicated to giving you a customized massage experience at every visit.
Clean natural health products. Therapeutic-grade supplements, vitamins, homeopathic medicines, aromatherapy, natural and organic skin and beauty care. Your health is the best investment you'll ever make!
Turn your home into a safe haven with Norwex by radically reducing the chemicals used in your home.
You can train the brain to learn easier, think faster, and perform better at any age.
A playground for adult women to learn the aerial arts of pole, hoop, hammock, and silks to increase strength, flexibility, and confidence!
Fresh, handcrafted, and all natural baked goods for a healthier version of your favorite treats.
Thoughtful ingredients and wholesome products for making mindful meals.
Providing affordable and convenient direct healthcare to folks with high deductibles or no insurance. We accept patients with no insurance, keeping our costs down 50-70% on all medical services. 
We harness nature's most powerful elements and share these gifts through our global community of wellness advocates.
A full-body workout that is fast, effective, and fun with personal trainers and nutritional guidance.
Emotional Release Sound Therapy, stress elimination, allergy elimination, one-day smoking cessation.
Customized one-on-one leadership coaching specializing in emotional intelligence and increased effectiveness.
Certified personal trainer focusing on adults of every body type, age, and level of fitness, with passion for working with inactive youth or sports specific training.
Dermatology-inspired, life changing skincare.
Dedicated to ensuring that runner and walkers of all abilities are fit with the proper footwear and technical apparel to meet their individual needs.
Memory loss resource center, offering programs and services to improve quality of life for persons with dementia, as well as their family care providers.
Together we can discuss your loved ones needs and our services to determine what is best for your entire family.
Register for free hearing screening, and we offer a wide variety and affordable hearing aids, if needed, to regain your hearing and lifestyle.
Empowering information, making healthier, safer self-care products that you can trust.
Couples counseling, help for anxiety and depression, addiction recovery, weight loss, holistic counseling, and cutting edge solutions for overall emotional and psychological wellness.
Scientific approach to helping you understand your body's specific nutritional needs when designing weight loss programs, discovering allergies and food sensitivities, hormone testing, performance training, and much more.
Empowering individuals with social, cognitive, emotional, physical, and spiritual needs through music, art, and mental health therapies to improve health and well-being.
Enhancing optimal wellness by minimizing pain, decreasing stress, and enjoying life through massage, craniosacral therapy, essential oils, full-spectrum infrared sauna, and bioelectromagnetic therapy.
National Alliance on Mental Illness of the Fox Valley works to support and empower everyone touched by mental illness.
A wearable device that monitors blood pressure, heart rate, breath rate, and much more. Blood glucose and more capabilities coming yet this year!
The premier errand and personal assistant service of the Fox Valley.
A full range of healthy living options for recreation, healthcare, nutrition, and personal programs with services for all ages.
Find a professional who can guide you along the path to feeling vibrant and at home in yourself and in your life through comprehensive and diverse healing approaches.
Discover your path to positive change with a life coach, anxiety educator and change manager who makes YOU a priority so you can find and live your best life, move through barriers and live more purposefully.
Dermatology offering exceptional service while providing comprehensive skincare.
A community-based monthly print and online magazine in Northeast Wisconsin that connects readers to local businesses, providing relevant information on sustainability, green living, healthy recipes, personal wellness, and more.
Mental health and wellness impacting children, teens, and their families.
30-minute boot camp workouts with results guaranteed!
Premium nutritional supplements for weight loss, better workouts, wellness, and more energy.