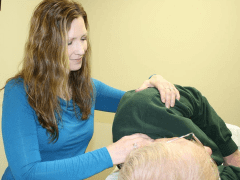 Physical Therapy For More Than Just Your Spine
While we're known for our spine-related expertise, we've brought that same quality of service to our treatment of a wide variety of physical therapy conditions.
We are one of the largest independently-owned providers of physical therapy in Wisconsin.
Physical Therapy Techniques
Our physical therapists use a variety of techniques to treat a variety of conditions. These techniques assist in the process of healing and recovering.
Physical Therapy Can Manage Many Conditions
Ankle sprains, strains, and injuries
Arthritis
Back pain (upper and lower)
Chronic headaches
Fibromyalgia
Foot pain
Golfer's elbow or tennis elbow
Hand and wrist pain
Hip pain or problems
Knee sprains, strains and injuries
Lymphedema
Motor vehicle accident injuries
Neck pain
Orthotics
Pre and post-operative rehabilitation
Pelvic physical therapy (Women's Health)
Pre/post obstetric care
Return to work programs (RTW)
Rotator cuff injuries
Sciatica
Shoulder injuries
Spinal injuries
Sports injuries
Temporomandibular joint disorder (TMJ/TMD)
Vestibular & balance disorder
Whiplash injuries
Workers compensation injuries
Cross-bow evaluations
Senior fall and injury prevention
Throwing analysis
Functional screen movement training (FMS)
Sports enhancement
Golf swing evaluation
Our Purpose
To touch people's lives in a very positive way through manual physical therapy as well as through other treatment solutions.
---
Our Mission
To be partners with you to provide superior physical therapy solutions to enhance your quality of life.